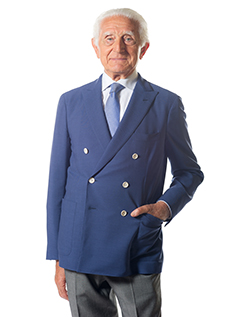 Yesterday was the difficult day.
Today the challenge to new difficulties starts again.

Mario Cavanna
Founder
Founder of Cavanna S.p.A Mario has covered several institutional posts. Among these we can mention: AIN Office Chairman (Industrial Association of Novara) and Vice- President of FederPiedmont (Confindustry), Vice-President of the Foreign Centre of the Piedmont Chamber of Commerce, Vice- President of UCIMA, President of the SIN (Industrial Services of Novara S.r.l, a Company linked to the AIN that deals with the supply of Managerial level of Consulting and Innovation Services for the Associated Companies).

"Let anyone who comes to you go away feeling better and happier."
(Madre Teresa di Calcutta)

Alessandra Cavanna
CEO
Alessandra Cavanna joined Cavanna Packaging Group 19 years ago, after a five-years career in law in one of the major legal firm in Novara.
She has been Cavanna Packaging's CEO since 1999, and manages Human Resources, Finance, Control, Legal Affairs and Safety.
Alessandra shares with her brother Riccardo, Operations Chief Executive Officer, all strategic decisions for "Cavanna Packaging Group".
Since 2014, she is member of the Regency Council of the Bank of Italy, in Turin office.
Drawn to a challenge, with listening skills, curiosity, ability to analyze and to study the terms of the problems, Alessandra identified two essential tools to manage the new responsibilities.
The first one is the constant training, which requires self-criticism and willingness to change.
She has recently obtained a Master in General Management at MIP – Milan Polytechnic – she is also Counselor in Core Energetics, a psycho-physical discipline that enriches her in professional and personal level.
The second tool is teamwork, very important for the cooperation attitudes, support and understanding within the Company.
"Believe in family values, group values and team spirit, being and doing things together, complement each other on a personal level in my third and most important family: my two children (my real teachers) and my husband, to whom I extend my gratitude".

"Luck doesn't exist. There is only the moment when talent meets opportunity."
(Lucio Anneo Seneca)
Riccardo Cavanna
CEO
Riccardo was born in Valsesia in 1970. He attended the Bocconi University and earned a degree in Business Management and recently, earned the Executive MBA at MIP, Business School of the Polytechnic in Milan, Italy.
Riccardo has had the opportunity to experience working abroad as well as in Italy: stage at SIM Centre in Milan and Languepin Group in Paris, 3 months of training as mechanical, service and project technician, Regional Sales Manager in Alpma Group in Germany.
Until the year 2000, he held various consulting and professional experiences to become Marketing Information System Manager for Italy at Deckel Maho Gildemeister.
Since the year 2000, Riccardo has been a member of the Board of Directors and in 2004, he has become the CEO of Cavanna, taking care of the business area and the market development.
During his present tenor, Riccardo has grown Cavanna internationally by opening a Manufacturing Plant in Brazil and another one in the USA.
Additional Chair activities to his Cavanna duties:
Member of the Board of Directors of

UCIMA

(Italian Association of Automatic Machinery for Packing and Packaging)

President of the International Affairs Committee until the year 2015
Member of the PMMI Global Marketing Committee in the USA (Packaging Machine Manufacturing Institute)
ABIMAQ Member (Confederation of Packaging Machinery Manufacturers in Brazil)
Member of the Board of Directors of FORAZ (Association for Corporate Training)
Active member of GEI (Association of the major Italian companies in Brazil)
European Candy Kettle Club member (European Association of machineries manufacturers for the confectionery industry)
Founder and President of the Alumni Scientific High School G. Ferrari

of Borgosesia.